Have to brag, I really enjoy cutting and sewing the stripes into 'squares'.
I got a kick out how the different fabrics ended up looking after the block was sewn.
Good news is I got about 50 new blocks sewn up in just a short amount of time. (my bad is I don't iron or pin so a few are a little wonky)
Really Bad news is that even though I like the concept, I am not so much a fan of the materials I played with.
The stash I started with was left overs from who knows what- I had started a pile years ago and threw in all the bumpy stuff as I was given into it. Plans were to someday make a baby quilt or two- I love texture! I said I like the way the 'blocks' turned out and I do, I just didn't like setting them together. I didn't feel like resizing them so they could play well together.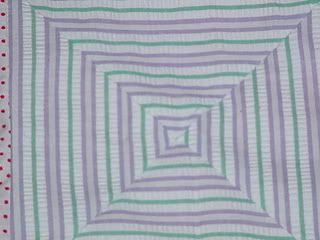 I dealt the blocks out into four piles. I hope to get baby quilts or at least gift starter kits. For the first one I decided to use a polka dot Swiss to sash the blocks.
I had just enough to make a 30" x 40" top. There is Swiss in other colors and I may do this again and try use up what I have. One can never have too many small tops started.
I took a few pictures of my 'favorite' squares. I like the one above b/c of the way the different colors look. The wedge to the right was cut separate and didn't line up perfect. Oh well.
This one below, with the wide and narrow flowers, looks pretty neat. I could have done better on the lining up but was speed cutting, and I get what I get when do that.

The two color fabrics, work up in a neat way, you don't have to line them up as well for them to still work.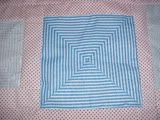 The top looks pretty primitive but once it is machine quilted the wrinkles will pull out. I have just enough of a pink stripe that I don't have to piece the back!
There are enough blocks left for a couple more small quilts. If anyone wants to try their hand at a set, I have extra.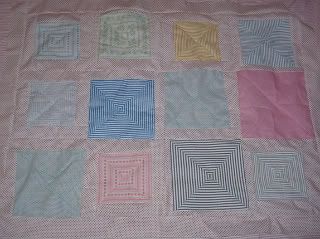 This really looks better in person, the white w/red polka dots just really makes my camera dizzy.
cw