Linda finally pinned me down to start work on her parents anniv. quilt. The fabric was purchased months ago. The pattern was picked and changed several time. We decided on this star and to do it as a Big-Block Quilt.
I am a fan of taking a favorite block and super sizing it.
This is perfect for an 8 color project. In our case we didn't have enough of 3 of her fabrics to we added another three. (Eleven fabrics!)
This is on a 12 1/2" block for each block in the pattern. The easiest way to do a large quilt in my opinion. This beauty takes sixteen background blocks cut at 12 1/2" and sixteen background blocks cut at 14 1/2 (hey that's the size sqs I have- when the tri/sqs are re-sized I have strips for my strip box!!) Thirty two prints cut 14 1/2" and we were good to go.
I suggest making a "KEY" b/c it really helps in keeping the fabrics in order. I numbered mine 1-8 and on the three that were short, used an A & B.
Then go to town sewing the triangle/squares. I like the sew down both sides of the middle and cut apart and re-size method.
Here is a pile waiting to be re-sized.

Linda is totally thrilled with our accomplishments. I think this is the best way ever to sew. Let your friend have a project in mind, buy the fabric, let you keep changing the patten, and then best of all, come over and wash dishes while you get to sew. (those that know me best, know I am always in the mood to help with your projects, especially if you pitch in on the housework- a total win-win.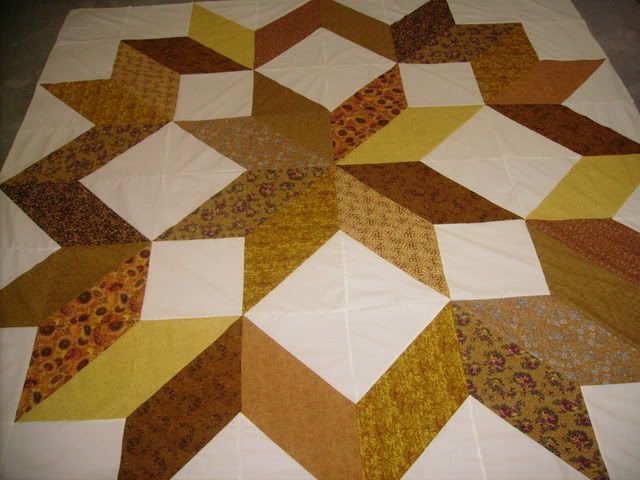 Congrats to Linda's mom and dad on their 55th! I hope they enjoy this gift of love from their daughter. I also hope they have great cake at the reception! See ya on Saturday the 8th of August! Be good cw