Wed. update-got the last of the flowers pinned up. Now need to decide if I like the lay out and then applique to the back ground. Hope to work on this after church tonight and start adding leaves tomorrow. (I sew early AM or later PM) I of course post when ever I can get to the computer!!- cw
I hope this project will be short and sweet, Start at the bottom of this post to see the progress!
Tuesday evening update-
this project was started on Sunday when a couple of girls from church came home with me to 'help clean'. Pre-teens are just the best!- This is our version of 'cleaning'.
Today I played with a few more of the flowers, these are so much fun- I love decorative stitches!!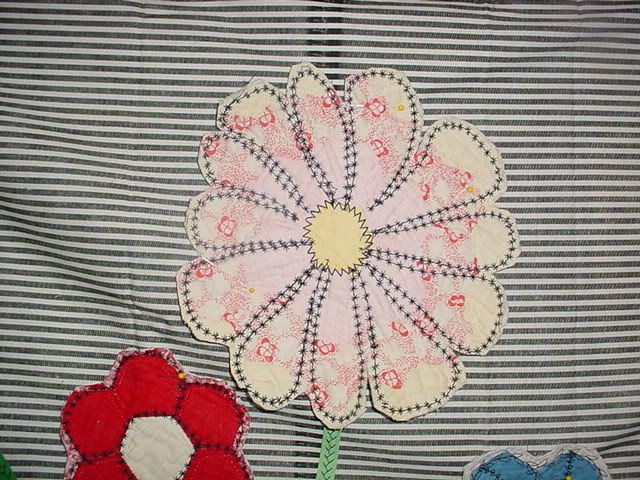 These flowers took on a life of their own. I still need to applique to the back-ground and add leaves. This is going pretty fast!
MONDAY:
Yeah, I got about an hour to sew this evening. Appliqued the vase and stems to my background fabric. Realized I can play with the flowers before I sew them down.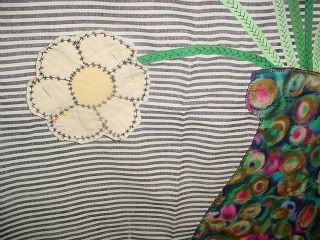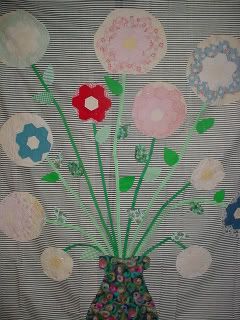 Decided on a size for the leaves, now just need to pick multi fabrics or just the 'green' one. I love the Swiss so I may go with it. Either way I have enough leaves cut out.
Here's today's edit- I think I am going to applique down what I have and worry about leaves later. One suggestion was a narrow leaf and I am liking that idea. I took out a flower to make it an odd number. Think I can add one of my butterflies to the space on the right.
On paper it looks like I can applique the flowers to have a little more petal detail. I am not much on art quilts but like to play every now and then when doing one for fun.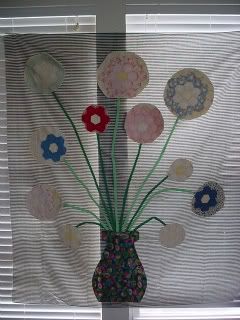 56" x 56"
Love this fabric that I used in the vase!
The "flowers" are left over from my sisters fix-er-up-er. (Plates from a cutter quilt top)
The stripe back-ground is a flawed piece. The vase is a couple inches off center to hide a blob.
I need HELP figuring out the flower stems- (after seeing the picture I am thinking I want to give each flower it's own stem)

I plan to add leaves but haven't decided if I am going to do them before or after I quilt the top. (I might sandwich the leaf with batting and go for a 3-D look)
I am planning to raw edge applique I just need little help with the final placement.
I did print a black and white pg and am going to practice drawing the stems to see if I can come up with something I like better.
The 'stems' are bias binding that I had from other projects.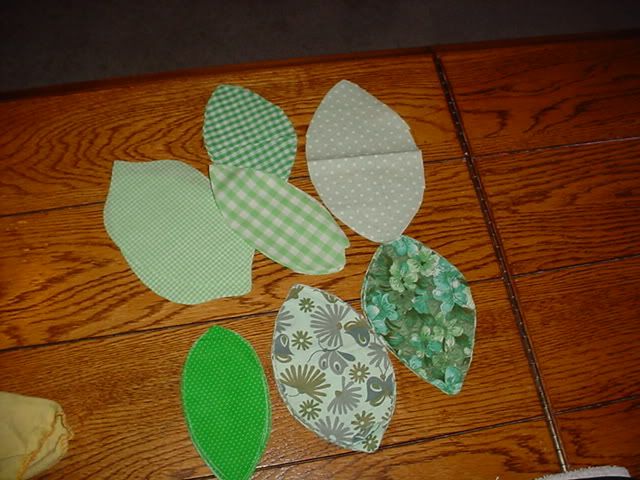 These are some of the fabrics for the leaves. They are too large so I am looking for ideas on a 'shape' to aim for.
Any and all ideas are welcome.
This project is on hold till tomorrow night, so feel free to jump and and think for me.
be good cw