Our quilting group was making scrap Irish Chain Blocks and trading them with each other.
This is ONE of the quilts I made from my Exchange Blocks. My MOM has this on at her home.
The Boy w/Kite is My DAD (He has a kite business in OKC)
The Tulip is left over from another TOP, the flower material is scraps from my mom!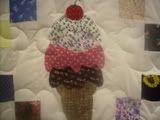 I designed the Ice Cream block b/c I had the perfect material for the cone.
I think this was from a coloring book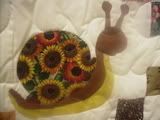 I made our daughter a quilt of cars for her 16th B-day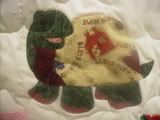 The turtle carries his home on his back
Made a quilt of appliqued ducks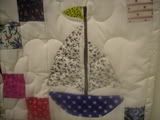 Dad use to take us sailing when we were kids
Daughter loves 'frogs'
Boys like to fish (the line is kite string for a textured feel)
This top just took on a design of its own, there was no real planning other than I knew I wanted to applique something in each open area. The idea to have characters cross into other spots came b/c I didn't want the fishing boy to just stand there, same thing with the kite boy. Not pictured is a girl with balloons and one jumping rope.
I would have to look to see if I can remember when this was made, I know the group made several Irish Chains that year. I will post pictures of my collection later.