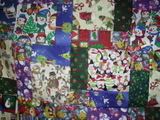 I was looking for a particular photo and couldn't find it. Instead I think I will show off a few of my favorite tops/quilts made with Christmas fabrics.
The first one is a
Disappearing
Nine Patch made for favorite daughter in law, Kelly. It is happy and scrappy and she has it out on the couch. Kelly loves purples and if I had fabrics to make another I would keep the purple in the larger
sqs
.
I had to have my own
Bargello
, this one is still just a top. I keep thinking I am going to quilt it for our bed but don't seem to get around to it.
This Holiday trade (12" Exchange Blocks) is now at home with hubby's sister. She was in the hospital
earlier
this month and I wanted to take her something to cheer up the room.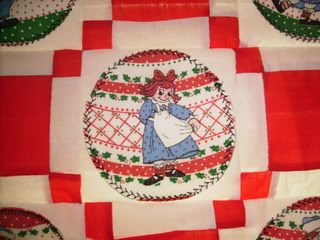 Raw edge applique and a 9-patch setting block made for an easy top to have on hand for the next Christmas baby gift.
I love to see the Sue's in Holiday fabrics. This is a fast, easy pattern. The setting strips are flying geese made form the 4 out of
sqs
. method.
I am always a fan of using the quiet book panels to make baby quilts. This is an easy setting
methods
, it looks good with or without setting
sqs
..
I could make Dresden plates forever. Especially out of scraps. This block is in the exchange quilt but I have made many quilt tops just using this block, it also looks good with setting strips.