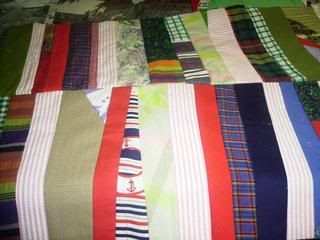 When Hope passed away her daughters gave me a couple of boxes of her scraps. I have been working the cotton in to my projects for several years. Hope loved to strip piece and was know in the area for her lovely scrappy place mats and pot-holders. I received a small sack of strips she had sewn onto old sheets. I would think of her every time I pulled them out and put them back. I just didn't have a project I 'had' to do with them....until Saturday.
Our church was having a 'watermelon' in the park get-together after Sunday evening service. I really wanted a take a new to me park quilt and HOPE's strips were going to be the perfect pieces to use. I have been doing my best to work from stash and had several thick fabrics set aside for utility quilt backs. HOPE's panels sewn on sheeting gave me a nice thickness so as to not need a batting.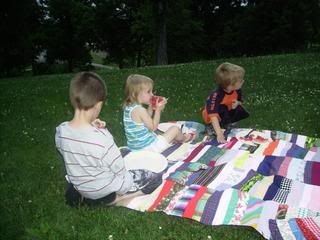 This made such a neat utility quilt that I had to make two. When asked 'where' I got the colorful quilts from, I replied: "A friend helped me, she did her part 12 yrs ago, I did mine yesterday!" What a fun way to remember a friend that was such an influence on my quilting.
I credit her for me not ironing, or using pins (just kidding-)
I haven't decided if I am going to "tie" these or do a quick machine quilting. I might just do a zig-zag down the strips and call it good.
The smaller one is about 48 x 65 (ish) The larger is 60 x 72. Both are going into my private collection.
I hope to get many, many picnics out of these before I pass them on to one of the kids. The "left over" strips from this batch were sewn into a 36 x 48 piece that I plan to quilt and use as a rug. I may even use some of my 'fancy' stitches on it to add texture and embellishment. The rug will be used in my sewing room (until one of the kids swipes it for their house).
I zig-zag stitch around the edge for decoration so I don't really have to tie the quilt. These are fairly heavy and not likely to 'blow' away. On my lighter picnic quilts I set a weighted bean bag on the corners to keep the breeze from turning it into a kite. be good cw